April 15, 2009 – 5:11 pm
This was my first attempt at making salsa. My workplace will be having a salsa contest for Cinco de Mayo, so I have to get a killer recipe in place 🙂
This was loosely based off of several recipes that I found online at some point or another. I think it was too heavy on the chili powder. I used 1 tbsp this time, and will reduce it to ½ tbsp next time, as written below. Roasting the veggies really adds a nice smoky component to the salsa. This is a medium spicy salsa. If you'd like it hotter, leave more of the membrane and seeds in the chiles or add more of the adobo sauce. If you really want it fiery, substitute a habañero for the jalapeño.
I'm submitting this to Joelen's Foodie Films: Tortilla Soup event.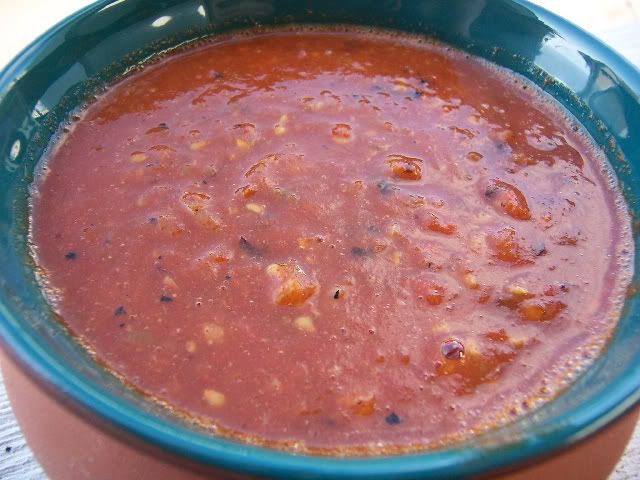 Roasted Tomato Salsa
Makes about 5 cups
2 lbs small tomatoes on the vine (e.g. Amarosa or Campari)
8 cloves of garlic, separated but unpeeled
1 jalapeño pepper
1 anaheim or hatch chile pepper (or any other large-ish mild green chile)
1 chipotle in adobo sauce with 2 tsp of the sauce
1 tbsp ground cumin
½ tbsp dark chili powder (I prefer Gebhardt)
4 tbsp fresh lime juice
½ tsp salt
½ tsp sugar
Preheat the broiler.
Cut tomatoes in half and place them cut side down on a large rimmed baking sheet. Remove the stems from the jalapeño and the anaheim and cut them in half. Remove the seeds and most of the membrane, leaving more in if you like it spicier. Place them cut side down on the baking sheet. Also place the garlic cloves on the baking sheet.
Broil the veggies for 5-10 minutes or until the skins are nicely charred.
Remove the skin from the garlic cloves and place all the ingredients in a food processor. Pulse until somewhat smooth and well combined. Taste and add more lime juice, salt, sugar, and/or adobo sauce as necessary to get the flavor just to your liking.
Serve with tortilla chips or as a condiment with your favorite Mexican meal.
Nutritional Information Per ¼ Cup
| | |
| --- | --- |
| Calories | 16 |
| Fat | 0 g |
| Saturated Fat | 0 g |
| Cholesterol | 0 mg |
| Sodium | 69 mg |
| Carbohydrates | 4 g |
| Fiber | 1 g |
| Protein | 1 g |
| Vitamin A | 7% |
| Vitamin C | 26% |
| Calcium | 1% |
| Iron | 3% |